It's time to check in on the state of the housing market.
At last glance, mortgage rates were still above 7%, though they did see a little bit of relief in the past week.
Meanwhile, housing supply continues to be heavily constrained, keeping home prices near all-time highs in most of the country.
This has proved to be a boon for home builders, as they have no competition from existing supply.
But it seems the home builders, and perhaps those with 2-3% 30-year fixed mortgage rates, are the only real winners right now.
Home Purchase Sentiment Has Been Flat with High Rates and High Prices

Fannie Mae's latest monthly Home Purchase Sentiment Index (HPSI), which gauges the housing market's temperature, was mostly unchanged from July.
A total of six components make up the HPSI, including buying conditions, selling conditions, home price outlook, mortgage rate outlook, job loss concern, and change in household income.
The percentage of respondents who said it is a good time to buy a home was unchanged at a very low 18%.
Meanwhile, the percentage who said it is a bad time to buy stood at 82%. So nothing changed there.
As a result, the net share of those who say it is a good time to buy remained unchanged month over month.
When it came to selling a home, 66% of respondents (up from 64%) said it is a good time to unload a property. And just 34% said it's a bad time to sell, down from 36%.
As such, the net share of those who feel it's a good time to sell increased five percentage points month-over-month from July.
That all makes sense, given the fact that home prices are high so selling would be quite profitable for most.
Speaking of, the average home seller sold for $200,000 more than they purchased for over the past three months.
That brings us to home price expectations. Some 41% of respondents believe home prices will rise over the next 12 months, unchanged from July.
Conversely, 26% say home prices will go down, up from 24% a month earlier.
And 33% believe home prices will be flat, which decreased from 34% in July.
Taken together, the share who said home prices will go up in the next 12 months fell two percentage points month-to-month.
Again, makes sense as mortgage rates are steep at the moment and the economic outlook has gotten a bit cloudier.
Just 18% Expect Mortgage Rates to Go Down Over the Next 12 Months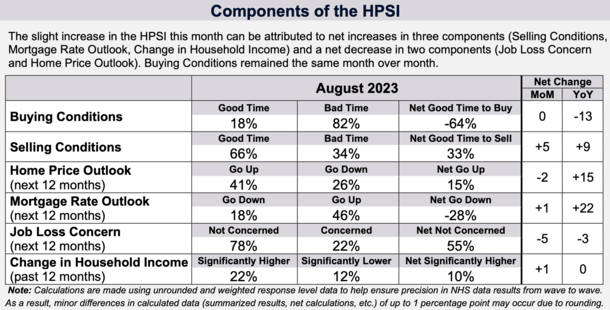 Speaking of mortgage rates, just 18% believe mortgage rates will go down in the next 12 months, up slightly from 16% in July.
And 46% expect mortgage rates to go up, a sliver better than the 45% last month.
The share who think mortgage rates will stay put fell from 38% to 34%.
This meant the net share of those who think mortgage rates will go down over the next 12 months went up one percentage point month-to-month.
That's pretty interesting since Fannie themselves forecast a 30-year fixed at 6.2% by the third quarter of 2024.
What about the state of the household finances? Well, 78% said they are not concerned about losing their job in the next 12 months, which was down from 80% a month prior.
And 22% said they were concerned about a job loss, up from 20%. This aligns with recent employment reports that show fewer Americans are quitting and are instead staying put, likely due to fewer prospects.
Finally, 22% said their household income is significantly higher than it was 12 months ago, up from 19%, and 12% said their household income is significantly lower, up from 10%.
And 71% said their household income is roughly the same, up from 65%. This pushed the net share who said their household income is significantly higher by one percentage point.
All in all, the HPSI was pretty flat month-to-month thanks to offsetting sentiment in the various categories.
What Makes the Current Housing Market Unusual?
In the words of Fannie Mae SVP and chief economist Doug Duncan, the housing market is "unusual."
He points to the low-level plateauing of the HPSI, which doesn't appear likely to change anytime soon.
Simply put, existing homeowners are basically stuck, whether it's the mortgage rate lock-in effect or a lack of replacement homes.
Meanwhile, many prospective buyers can't even afford to buy a home, but prices aren't falling because there's limited supply.
"The overall HPSI is maintaining the low-level plateau set a few months back, and we don't see much upside to the index in the near future, barring significant improvements to home affordability, which we also don't expect," he said.
Duncan notes that it's "a tale of two markets," with existing homeowners sitting pretty on their 2-3% 30-year fixed mortgages and relatively low purchase prices.
And prospective home buyers stifled by high asking prices, a lack of supply, and more than a doubling in mortgage rates in about a year and a half.
In short, the Fed created a group of haves and have nots, thanks to their accommodative rate policy and mortgage-backed securities (MBS) buying spree known as Quantitative Easing (QE).
This has made it difficult for existing owners to buy move-up homes and free up starter home inventory for first-time home buyers.
But it has benefited home builders, who are now the only game in town. Typically, existing home sales account for about 85-90% of total home sales.
So it's clear the builders won't be able to make up for the massive shortfall, thereby keeping housing affordability low.
At this point, it appears the only way we'd see a meaningful increase in housing supply would be via widespread distress, such as if there was a bad recession with lots of unemployment. It's possible.
About Author