I don't think it would be much of a stretch to assume nobody likes high mortgage rates.
They make it more difficult for prospective home buyers to get to the finish line, especially with lofty asking prices.
And they've led to countless mortgage layoffs and job losses in a number of related industries.
Sure, investors might earn more interest on loans with higher mortgage rates, but only if the loans are held onto to.
There's a good chance they'll be paid off sooner rather than later, making them a little less enticing. But there is one silver lining to these stubbornly high mortgage rates.
There Will Be a Mortgage Refinance Boom in the Near Future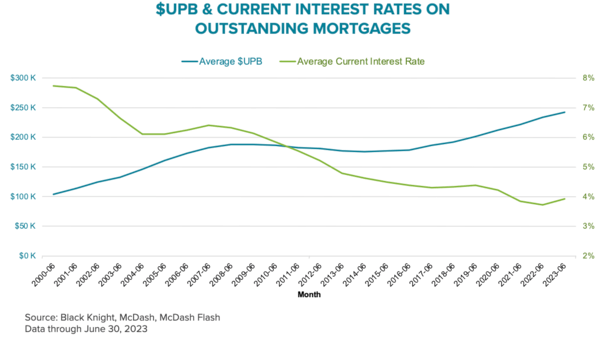 The longer mortgage rates remain elevated, the larger the number of high-rate home loans in existence.
It's pretty straightforward. If lenders keep doling out new loans, they'll undoubtedly have high interest rates.
If you look at the chart above from Black Knight, the average interest rate on outstanding mortgages is around 3.94%, but is inching higher as time goes on.
As more high-rate mortgages are originated, this average rate will climb, thereby replenishing the very dry refinance pool.
At last glance, the popular 30-year fixed mortgage is going for over 7%, up from the 2-3% range in 2021 and early 2022.
Mortgage rates are now close to their 21st century highs, with the 30-year fixed reaching 8.64% in May 2000.
Hopefully we don't go that high, but anything is possible these days.
Even 7% mortgage rates have caused home loan volume to drop considerably, with mortgage refinances basically nonexistent and home purchases also dropping off due to sheer unaffordability.
We've never seen mortgage rates double in such a short span of time, and it's clear this is taking a massive toll on the industry.
It's hurting loan officers, mortgage brokers, real estate agents, title and escrow officers, and many others.
But despite this more than doubling in mortgage interest rates, there is still considerable business taking place.
Mortgage Lenders Are Still Expected to Close Nearly $2 Trillion in Home Loans This Year
While the boom years have come and gone, the Mortgage Bankers Association still forecasts $1.7 trillion in 1-4 unit residential home loan volume for 2023.
That's on top of the $2.3 trillion or so in home loan originations in 2022, for which the 30-year fixed was priced in the 6s and 7s for a decent chunk of the year.
Of course, these numbers are down significantly from 2021, when mortgage lenders originated a record $4.4 trillion or so in home loans.
Coming off a record year to a doubling in mortgage rates is one of the reasons it's been so hard for those in the real estate and mortgage industry.
Because business was going gangbusters right before this unprecedented mortgage rate spike, lenders were fully staffed, as were real estate brokerage houses, escrow and title companies, and so on.
This sudden and violent shift meant staffing levels were going to need major adjustments. It wasn't a slow trickle down in business, it was a rapid decline.
Because of depressed sales volume, many will leave the business and not come back.
But as we've seen time after time, there will be opportunity, especially if there are fewer players left after the dust settles.
Once mortgage rates do come down, which they invariably will, trillions in home loans will be ripe for a refinance once again.
It's still not clear when this will happen, but it will happen, that much is true.
Homeowners Also Stand to Benefit from Lower Mortgage Rates in the Future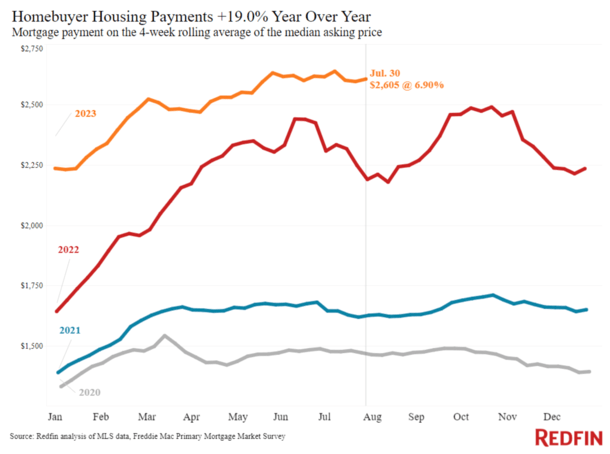 While the industry is going through some tough times, recent home buyers are also suffering.
The 30-year fixed was a screaming bargain a couple years ago, and is now a thorn in the side of homeowners.
Due to supply shortages, home prices have stayed near record highs, despite a major decline in affordability.
This has pushed the typical home buyer's monthly payment up to $2,605, per Redfin, up about 20% from a year ago. It's now hovering around an all-time high.
Meanwhile, months of supply is still lingering around the 3-month range, well below the 4-5 months that represent healthy levels.
So today's home buyer still has to compete with many others, despite record high home prices and equally expensive mortgage rates.
However, a time will come when mortgage rates come back down, allowing those who stick it through to see some relief.
Lately, real estate agents and loan officers have been pitching the so-called date the rate, marry the house line.
Simply put, the interest rate is just temporary but the home can be yours forever. And if rates go down, you can refinance your existing loan and ideally pay a lot less for it.
This has yet to transpire, which hammers home the importance of being able to afford the housing payment in front of you, not some prospective future one if the stars align.
But as time goes on, interest rates will come down. And those stuck with rates in the 7s will be able to snag something a lot more reasonable.
So each day, as more and more 7% mortgages are funded, more opportunity is being created.
About Author