Whether you're already a proud Tesla owner or are still checking prices before taking that step, there are a few Tesla aftermarket accessories out there that can help maximize your Tesla experience. We've put together a list of essential, convenient, and stylish accessories for your Tesla that current (and future) owners should consider.
We'll start by listing our Top 10 Tesla accessories that apply to all models (spoiler: this list is pretty darn practical). The next sections will highlight a few more model-specific accessories for Teslas that we feel are worth the money.
Top 10 Best Tesla Accessories for ALL Tesla Models S 3 X Y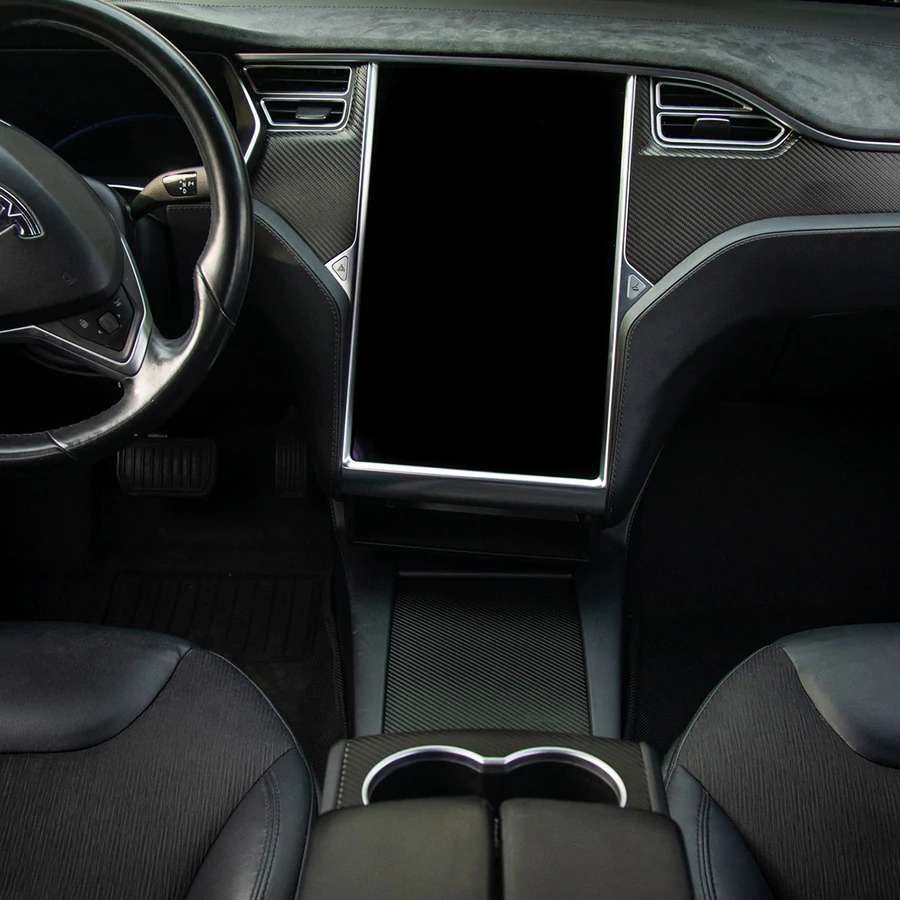 #1: Protection for Your Tesla's Touchscreen
As anyone who's ever cracked a cell phone screen can tell you, replacing a screen protector is way cheaper than replacing the whole darn screen.
So what if something cracks your Tesla's massive, super-integrated touchscreen? If the console screen goes, say goodbye to navigation, climate control, and all the other things that make driving a Tesla a pleasant experience. While you can technically still drive a Tesla without the touchscreen, a ton of functionality is simply inaccessible. Add that to a whopping $1,500 repair bill for Tesla service center touchscreen replacement, and we're pretty sure you'll agree that less than $50 worth of screen protection is worth it.
The best screen protectors are made of 9H tempered glass, and we're partial to a matte finish to reduce glare and fingerprints. You can find Model X/Y and S/X screen protectors at most EV stores that cater to Teslas (RPM TESLA sells a decent 9H protector for the pre-2021 Model S and Model X, and the TESBROS New Owners Essential Bundle for the Model 3 and Model Y includes one as well).
Just make sure that you are buying a screen protector for the correct Tesla model, and be aware that after 2021 the S/X "refresh" screen size has changed.
A touchscreen protector is a fast, inexpensive accessory that safeguards your Tesla's functionality and can cut down on occasionally annoying glare and fingerprints. Boring, maybe, but definitely our #1 recommendation for best Tesla accessory for new and used Teslas.
#2: Extra Sentry Mode Storage Space
Sentry Mode videos eat up plenty of storage. While a USB drive may be a good, quick storage solution for some, an SSD can withstand longer use and harsher temperatures. In the refreshed 2021 Model 3/Y, the drive can even be connected to a USB port inside the glovebox to prevent it (and your precious footage of vandals) from unauthorized wandering off.
Two sturdy SSD recommendations for a Tesla that we've seen are the Samsung T5 and the Samsung Extreme. Both seem to tolerate harsh temperatures well and have more than enough storage space for regular use.
#3: Heavy Duty Floor Mats
We're the used Tesla guys, so one of our top priorities is protecting resale value. While Teslas retain their value remarkably well over time, any car goes down in the eyes of potential buyers when the floors are, well, gross. Tesla's stock floor mats are not stellar, especially for owners in snowy or muddy climates.
Rubber floor mats are a great investment that not only make cleaning your Tesla's floors easier but also helps keep your Tesla pristine (always a plus, even if you don't plan on selling). Loads of floor mat options abound, but 3D rubber floor mats for Teslas have long-term durability and excellent spill protection (and as anybody with kids or pets knows, scuffs and spills are a matter of when, not if).
Tesla sells their own All Weather Liners—a solid budget option that's better than stock mats by far—but we're more partial to the 3D Maxpider mats at Teslarati (the higher sides are a big plus, and they pretty much stay put). TESBROS also sells a great 3D floor mat for the Model 3 and Model Y; not quite as heavy-duty as the 3D Maxpider, but honestly more aesthetically pleasing (and less expensive).
#4: Tesla Front License Plate Holder
While the clean façade of a Tesla is a major part of the Tesla aesthetic, many states require a license plate plastered on the front of all the vehicles they register. While Elon says they "make my eyes bleed," legally even he still has to slap on a front plate as he drives around down in the two-plate state of Texas.
If you live in a state with front license plate requirements for Teslas, a non-marking front license plate holder is an accessory you can't ignore unless you plan on drilling holes in your Tesla yourself, which we absolutely don't recommend (voided paint, rust, and body warranty scenarios would apply).
Teslas started coming with an extra front plate holder that uses 3M adhesive. It works, but you can't really take it off without making a mess, and putting it back on again requires more adhesive.
The best recommendation we've got for a front plate holder is the SnapPlate from EveryAmp (formerly known as LivingTesla). The mechanism on the SnapPlate allows you to take it on and off the lower grille without damage. If something snags the plate, it breaks itself instead of the grille and has a cheap replacement part for the fix. Nifty.
Fun fact: the current Model S Plaid comes with the front plate pre-installed instead of tucked into the trunk. The reason? The Model S was crash-tested with the plate installed and now Tesla can't legally sell it without an installed front plate at delivery. Fortunately, the current adhesive plate holder is easier to remove and bolt holes (wherever they are used) aren't really visible. And since these plates are actually installed by Tesla, there shouldn't be any warranty issue regarding the area around the bolts.
#5: Door Edge Guards
Here's another resale value protector for you: door edge guards that help keep the inevitable door dents and paint damage on your Tesla (and the car of the guy who parked way too close) to a minimum.
While you'll need to keep an occasional eye out for any buildup behind your Tesla's door guards (installation can leave a little room for trapped dirt and moisture on the back side of the door), door edge guards are typically easy to install and keep your exterior edges shiny.
Not everyone agrees on the aesthetics of the edge guards; after all, they do cause a slight interruption to the overall sleek look of your Tesla. However, we've found a barely noticeable clear PPF set of Door Edge Guards at TESBROS, and 3M also makes a widely distributed set that works just fine.
#6: Portable Air Compressor
A super basic accessory for any vehicle with air-filled tires (our non-scientific Venn diagram says this still includes ALL Teslas), #7 is the good 'ol portable air compressor. No need to remember quarters at the gas station or drag out the big air compressor at home if you keep one of these in the trunk or frunk at all times.
Inflating your tires to a precise air pressure without constantly checking is a major plus, so we'd recommend a digital air compressor for your Tesla like this AstroAI Portable Compressor on Amazon. Really, though, any 12V portable digital air compressor will do. Just be aware that most of them have a limited run time before they need to cool off (typically 15-20 minutes top).
#7: Jack Pads
Continuing in the vein of protecting your Tesla, jack pads are essential for keeping the bottom edges and battery case of your Tesla in top condition. They provide a non-slip surface at the lift points of your Tesla and help prevent damage to the side skirting and battery compartment during service.
Pretty much anything you can do to protect the battery compartment is worth your time, and a set of jack pads tucked into the frunk can add some peace of mind during your Tesla's inevitable tire changes. Tesla doesn't offer their own set, but you can find jack pads at TESBROS that are compatible with all models.
#8: Cleaning Supplies
Are cleaning supplies considered Tesla accessories? Yes! Because Teslas are too pretty to stay gritty (#sorrynotsorry). And while you can certainly drop by the local car wash every now and then to help your Tesla stay clean, nothing beats a thorough hand wash when it comes to protecting your paint and keeping an eye out for potential problems.
Keeping products and accessories for cleaning your Tesla on hand will help you take full advantage of those extra moments you can spend on your Tesla's upkeep (we don't know about you, but we certainly prefer washing cars when there isn't a store run involved).
Do yourself a favor and adopt the two bucket wash system (with a mesh debris guard like this one) for your Tesla along with a washing mitt, microfiber towels, and automotive shampoo. This is enough for a basic wash routine.
#9: A Case for Your Tesla Car Key Fob
While this doesn't actually apply to all Tesla models, the Model X and Model Y both come with a key fob that needs protecting. You can now buy a key fob for your Model 3, but as far as we know it's not available as an accessory for the Model Y (your phone and key cards are supposed to do the trick).
Like our #1 recommendation, the Tesla key fob case is purely a maintenance choice (and helps you keep track of the thing). All that time spent in your pocket or bag (and, uh, plummeting to the floor after a fumble) will take its toll on the key fob, so why not extend its life as long as you can with a protective case?
FYI, replacement key fobs are $175 for the Model 3, and over $300 for the Model S and Model X…money better spent on something more fun, like #10 on this list.
We don't have specific recommendations for key fob cases, but Amazon, Etsy, and RPM TESLA are swimming with key fob options, from silicone to leather to molded carbon fiber (not gonna lie, these look pretty sweet).
#10: Game Controllers
Okay, we know we said this list is mostly practical. Well, gaming is practical, especially if you or a passenger is bored and sitting at a Supercharger. For the casual gamer who just wants an easy plug-in option that can stay in the car when not in use, the Logitech F310 Wired Controller is an inexpensive accessory that should work just fine in your Tesla.
For you more serious gamers (or if you want something that you can take in and out of the house), there's always the wired or wireless XBOX One controller (though we recommend wires if at all possible to prevent connectivity headaches).
Well, that's it for the Top 10 Tesla Accessories! Let's take a look at a few Tesla accessory recommendations that are more specific by model:
Top 3 Tesla Model S Accessories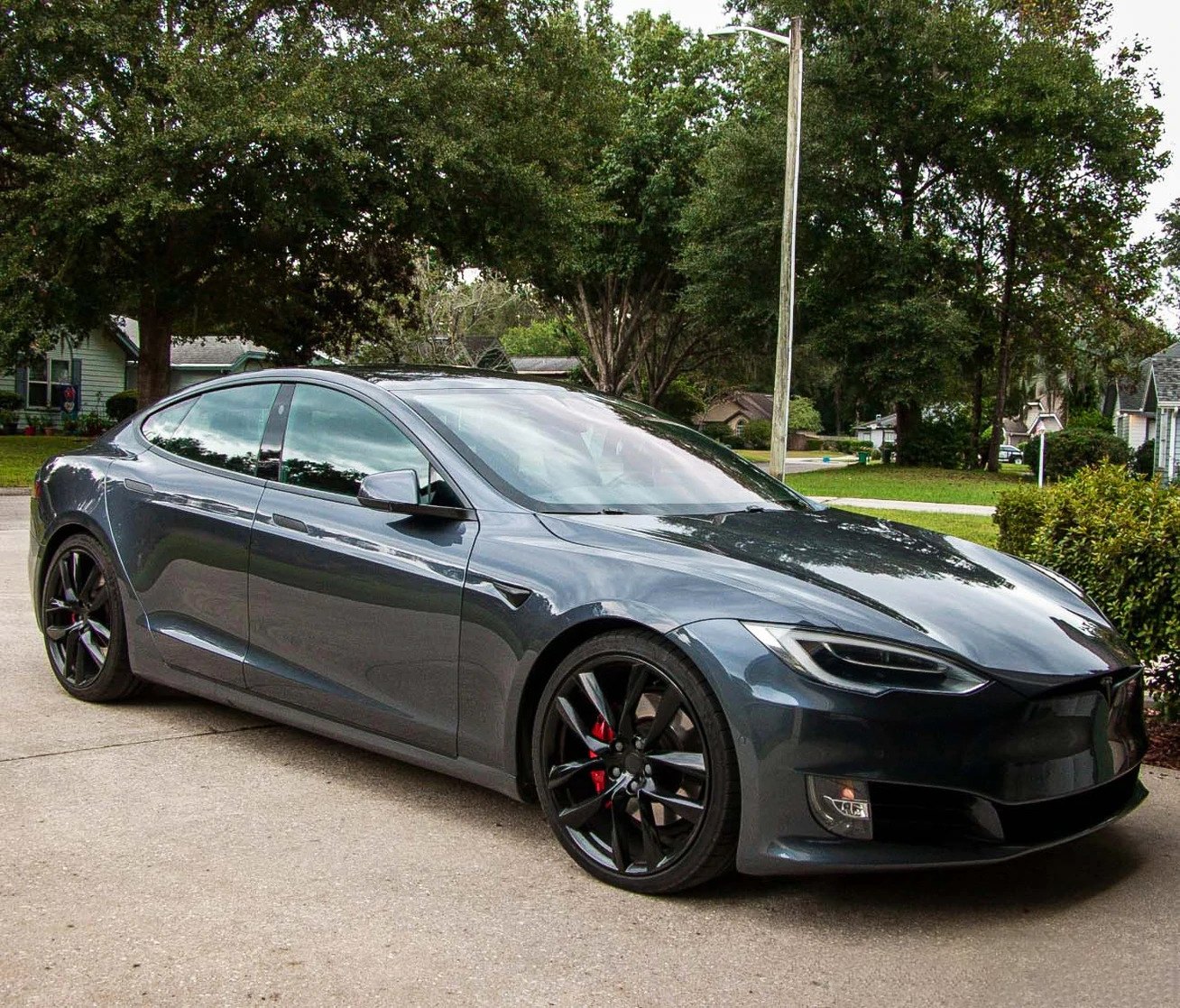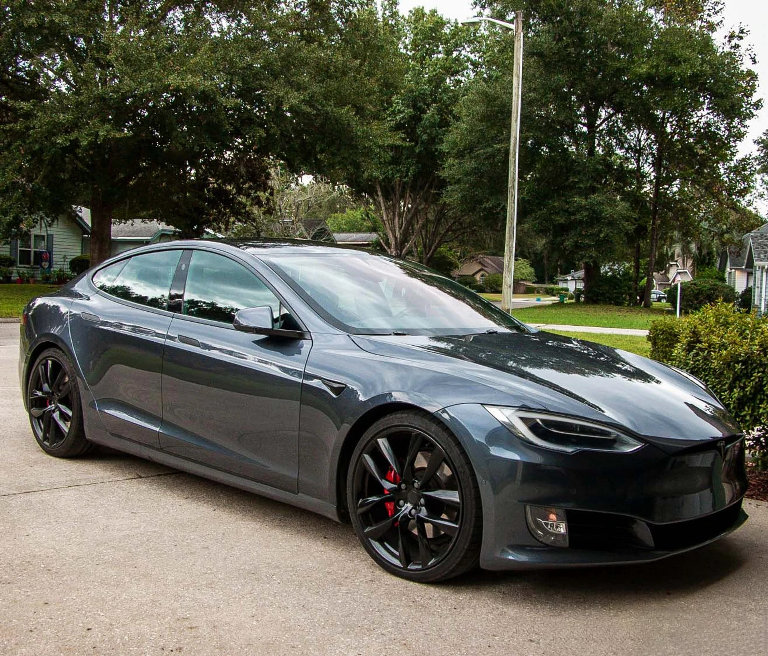 The Model S doesn't get enough love right now from companies making accessories (thanks a lot, Model 3), but there are a few aftermarket accessories for a Model S that just make sense to consider. We've got two practical Tesla accessories and one cosmetic one that we think complement the Model S experience, so here goes:
#1: Sun Shade for Warm Climates
If you live in the western and southern portions of the US, one of the first Tesla accessories you'll probably want to consider are some sun shades or heat shields. Despite the HVAC system in Teslas constantly improving, a Model S can still be a massive heat trap in a place like Arizona or Texas.
Any little thing you can do, like parking in the shade and adding a sun shade or heat shield, can help your Tesla's battery live just a bit longer…not to mention keeping you and your passengers from feeling like fried eggs on a sidewalk whenever you go for a drive in the summer (and in the fall, y'all, if we're still talking about the South).
Tesla sells their own sun shade for both the Panoramic Roof and the All Glass Roof from Model years 2012-2020 (remember, Pano Roof moves, All Glass Roof stays put), and Tesmanian stocks a basic roof shade for the 2021-2022 refresh Model S that is lightweight and easy to store.
If you plan on getting some serious temperature regulation with your shades, an Original HeatShield set can help you reduce vampire drain from your Tesla's battery cooling system when parked out in the open. There's a bit of a learning curve to setting up these heat shields, but the results can be measured in real driving range savings. Not bad for a simple Model S accessory.
#2: Model S Storage Organizer
An organizer for the sub trunk is a must have Tesla Model S accessory, because everything just rolls around otherwise. We mentioned keeping jack pads and a portable air compressor in there earlier, and it'd be great if those things didn't go slamming into each other every time you tested out the sick cornering abilities of your Model S.
While you can get all kinds of crazy organizers with specific slots, a basic lift out organizer that folds flat when not in use is ideal. Make sure to buy an organizer that fits your model year! As the sub trunk in the 2021-2022 Model S Plaid changed dimensions after the refresh (it's not a convenient rectangle anymore), most available Model S sub trunk organizers aren't compatible with them.
Pre-2021 Model S
Post-refresh 2021 Model S Plaid
Sub trunk organizer: Since specific organizers don't seem to be on the market yet, these Multipurpose Cargo Organizer Blocks on Amazon can help you keep a few items (like a portable air compressor) secure.
#3: Chrome Delete Kit (For pre-2021 Model S)
Though the Model S Plaid started delivery with a style update that included only a tiny amount of chrome, covering your pre-2021 Model S chrome with a DIY chrome delete set is all the rage.
Options for chrome delete have gotten cheaper since they became popular aftermarket accessories for Tesla's Model 3. As a result, earlier Model S years can benefit from the updated, streamlined look at a fraction of the cost of professionally wrapped or painted chrome.
We'll be honest, we didn't want to love the idea of covering the chrome on a Model S, but seeing is believing; chrome delete on the Tesla Model S is so smooth. And precut sets like the TESBROS Complete Chrome Delete Kit for Model S make it an easy DIY with a big payoff in looks.
Must Have Tesla Model 3 Accessories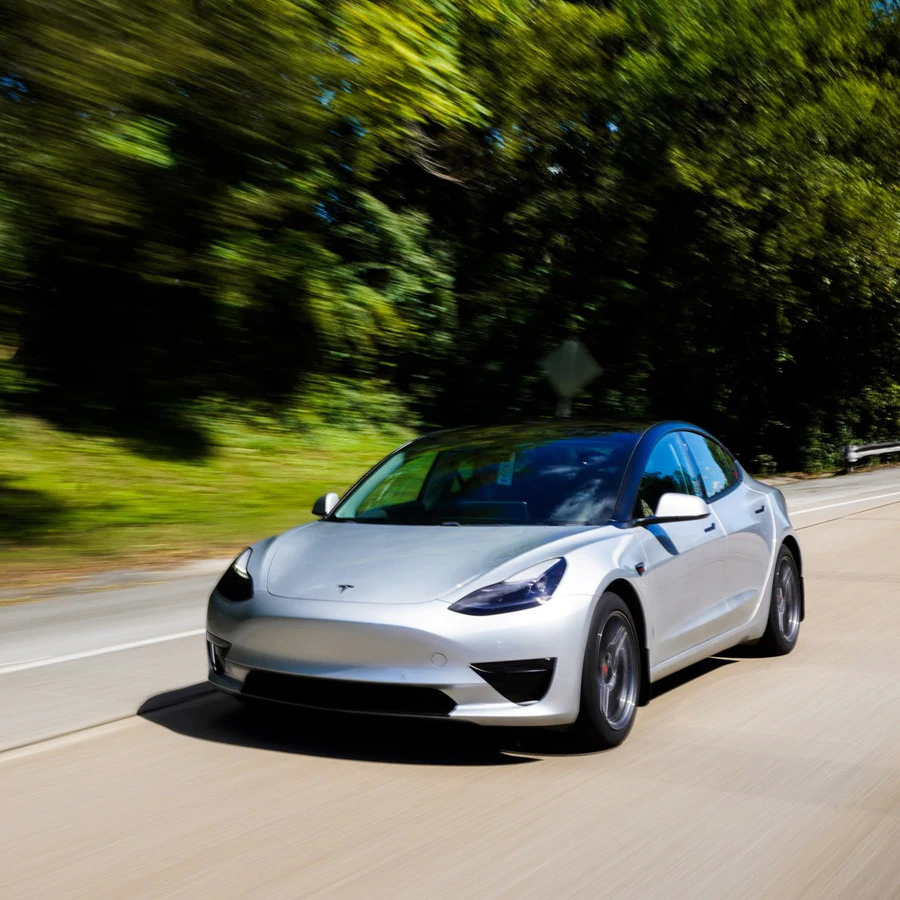 The advent of the Model 3 brought an explosion of cool Tesla accessories to the market, and these days you can find any number of wraps and personalizations for your Model 3. We're going to look at a three of the most commonly bought aftermarket accessories for the Model 3:
#1: Center Console Wrap
The Model 3's center console is a fingerprint mess in piano black, so the first of our first Model 3 must have accessories is a center console wrap. Upgrading the console's look adds sophistication to the Model 3's cabin and lets you go a little longer between cleanings (which, let's be honest, would otherwise be every time you touched it). They also allow you a quick and easy personalization to your Tesla, always a plus. EV Wraps and TESBROS both have several conservative and sporty wrap options for Gen 1.0 and Gen 2.0 (with the sliding door) Model 3 consoles.
If you aren't a fan of installing wrap material, Model 3 center console ABS plastic shell sets make for an easier install and removal (all for a higher price point, of course). For the Gen 1 console, RPM Tesla and Abstract Ocean both stock decent color options for ABS console shells, and RPM Tesla stocks several console cover options for Gen 2 (like this one in Matte Black).
#2: Wireless Phone Charger, USB Hub
While the current Model 3 ships with a wireless phone charger slot (for Qi-enabled phone models), the pre-June 4th 2020 Model 3 could definitely use an upgraded wireless option.
There no longer seems to be a wireless charging unit available straight from the Tesla online store, but we've found other wireless charging aftermarket accessories for the Model 3 that can do so much more without looking out of place.
Our current favorite is the Jeda Wireless Pad, which doubles up with their USB hub to seamlessly add charging space and options to your Model 3. We like that you can also use the hub as a place to store your SSD out of sight if you have a Model 3 without a USB port in the glove box.
#3: Performance Pedal Cover
While changing up the pedals in your Model 3 won't actually change the trim level (sad face), for those without a Model 3 Performance, the pedal facelift makes a nice, sporty change to the driver's side of the cabin. Performance pedal covers are made with rubber and aluminum alloy, and even if they mostly just look nice and clean, they do add some extra grip.
You can find Performance Pedal Covers for the Model 3 in most EV accessory stores that carry aftermarket Tesla 3 accessories. We like the Powder Coated Performance Pedal options at RPM Tesla, but if brushed stainless is more your thing, the Performance Pedal Set from TESBROS has you covered (pun intended).
Top 3 Best Tesla Accessories for the Model X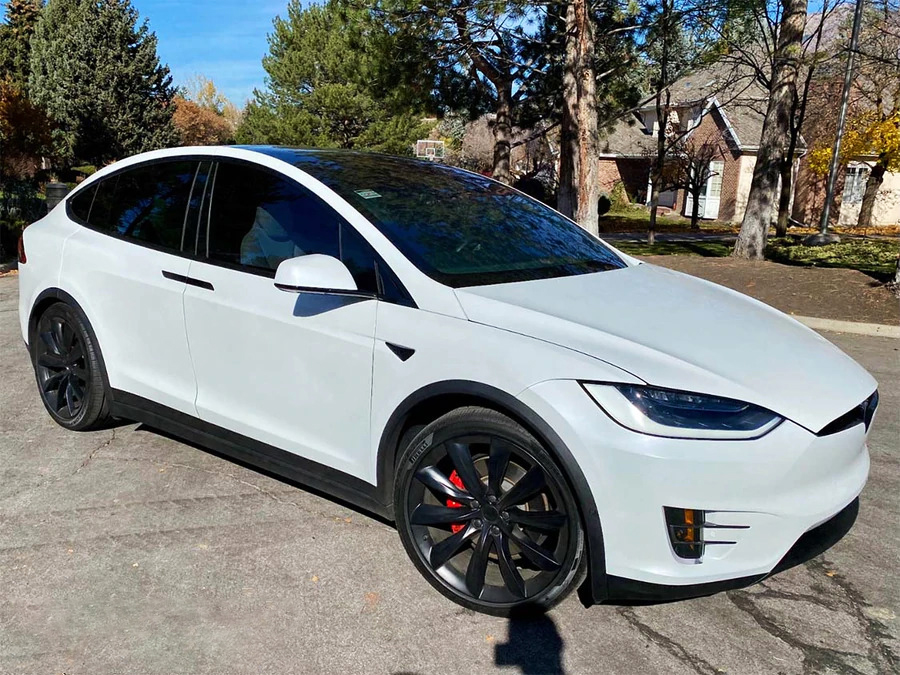 We may be pegging the Model X as "the family road trip and hauling Tesla" here, but let's be honest…it kind of is. So here's our quick list of top accessories for Tesla's Model X, two that are practical and one just for the aesthetic:
#1: Inverter
Once you've charged your Tesla, it's time to charge everything else. From laptops to electric scooters, the electric lifestyle requires a place for plugging in. An inverter should be the on your list for any EV, but it holds a higher priority with the Model X (and maybe the Model Y) since more people are going to be using it. Probably.
A regular inverter that doesn't involve hardwiring is best (for warranty reasons, etc), and something like the Bestek 200w Inverter, which covers most of the bases with 110V AC outlets, USB-A, and USB-C, is ideal.
#2: Extra Long Charging Cable
If you've ever been stuck trying to figure out how to get a reasonable charge on a Tesla during a road trip with no supercharger in sight, you know the value of a really long charging cable! And since the Model X has so much extra storage space, there's really no reason not to carry an extra 30ft lifeline with you.
Charging cables may not be all that fun and glamorous, but as an accessory for a Tesla X, the value of extra cable footage can't be ignored. EVVANEX carries a Tesla charging cable extension for about $200 for just the cable sans all the extra adapters. Not cheap, but charging cables never are (and running out of juice in a Model X and getting towed? Well, that isn't cheap, either).
#3: Chrome Delete Kit (For pre-2021 Model X)
This Model X accessory isn't a road trip enhancer, but style matters, too, right? And since the Model X is arguably the most iconic Tesla with its unmistakable Falcon Wing doors, why not give it all the exterior sprucing up you can get with a chrome delete?
Like the Model S Plaid, the 2021-2022 Model X refresh has already snuffed out most of Tesla's earlier chrome styling. If your Model X is a pre-refresh 2015-2020, you can update the look of your Model X yourself with a DIY chrome delete kit.
Precut sets like the TESBROS Complete Chrome Delete Kit for Model X are a quick and fairly inexpensive way to make a big impact on your Model X's style.
Top 3 Best Tesla Accessories Model Y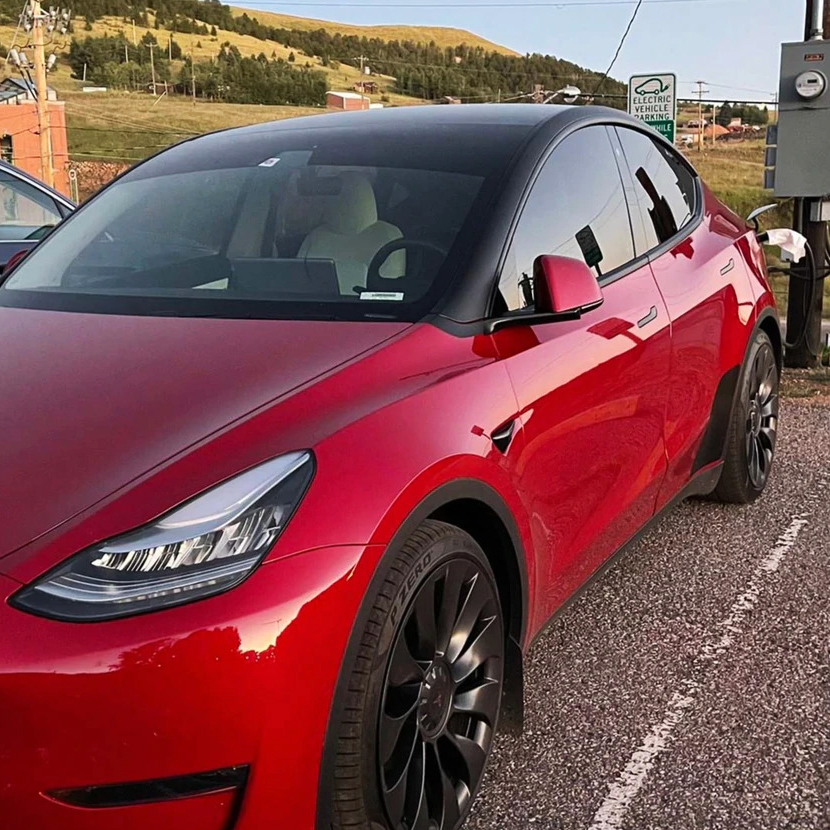 The Model Y accessories market benefits a lot from the popularity of the Model 3 since they share so many parts in common. You can take a lot from our Model 3 list and add it to this one for the Model Y, but here are a few more accessories that make everyday use of the Model Y even better:
#1: Mud flaps
If your Tesla is going to experience salted roads, snow, mud, or gravel on a regular basis, mud flaps are a no-brainer. The Model 3 and Model Y have both had issues with paint damage from suboptimal driving conditions. Adding a set of mud flaps can dramatically reduce damage to your Tesla Model Y and protect its resale value.
Tesla sells their own All-Weather Protection Kit for the Model Y, but the cost is relatively high and doesn't include rear mud flaps.
Mud flap accessories for the Model Y go pretty cheaply on Amazon (if you go that route, steer clear of any mud flap installation that involves drilling holes), but we've found a solid, inexpensive set with great installation instructions from RPM Tesla that we like. One of the advantages of the RPM Tesla set is that it doesn't extend as close to the road; with plastic mud flaps, a hazard of too much length is that they can easily shatter on speed bumps.
#2: Center Console Organizer
The center console of the Model Y is nice and deep, which also makes it a stuff pit without some sort of organizer. Just be aware that the two console designs, Gen 1 (pre-refresh 2020 Model Y) and Gen 2 (refresh Model Y 2021-2022), are quite different and require specifically-sized organizers for each one.
EVVANEX makes a great coordinating slide-out tray for the 2021-2022 refresh Model Y Gen 2 console that keeps smaller items organized while leaving room for bigger ones, too. The Gen 1 Model Y (2020, pre-refresh) console is more open, so a drop-in tray works best.
#3: Under seat storage
Since the big advantage that the Model Y has over the Model 3 is space, it just makes sense to maximize on the storage potential for your Model Y wherever you can. Some clever accessories for the Model Y include extra cubbies and bins in open, unused spaces.
The Model Y has a decent amount of space right under the seats, perfect for extra bins (the back middle seat has a little less space, but there's still some usable storage area under it). We're fans of these underseat storage bins from RPM Tesla with flocking that preserve the OEM look, but you can find some relatively underseat inexpensive options on Amazon (if you don't mind sending back the occasional dud product…some of the reviews on these are brutal).
That's it for our list of Top 10 Tesla Accessories (plus bonus aftermarket Tesla accessories by model)! If you're still in the market for a used Tesla, or are looking to sell your used Tesla before upgrading, be sure to check out our Ultimate Tesla Marketplace!
As a buyer, you can use our filters to find exactly what you're looking for. Model, Trim, Autopilot Hardware, Mods; it's all here.
As a seller, we offer two routes for getting top dollar for your Tesla:
Our Tesla-only private listings (the best way to connect with the community and get a buyer who is looking for exactly what you're selling).
Find My Electric's Instant Cash Offer system, which connects you to Tesla-informed dealerships ready to make you an offer!
Browse out our private listings to see current pricing or submit your info for an Instant Cash Offer to see what our network of dealers can offer you for your used Tesla today!
About Author