If you've yet to enter the housing market, but are thinking of buying a home in 2023, there's a lot you need to know. The 2023 housing market is going to be a lot different than in prior years!
As I once pointed out, this isn't your older sibling's housing market. Not just anyone can get a mortgage these days. You actually have to qualify. But we'll get to that in a minute.
Let's start by talking about home prices, which surged in recent years and are finally beginning to fall from all-time highs.
At the same time, mortgage rates remain elevated, having doubled over the course of 2022, keeping affordability out of reach for many.
Taken together, home buying in 2023 should get easier from a competition standpoint (if you can afford it!), but there's still the question of quality inventory, which remains scarce.
1. Prepare for Sticker Shock When Buying a Home in 2023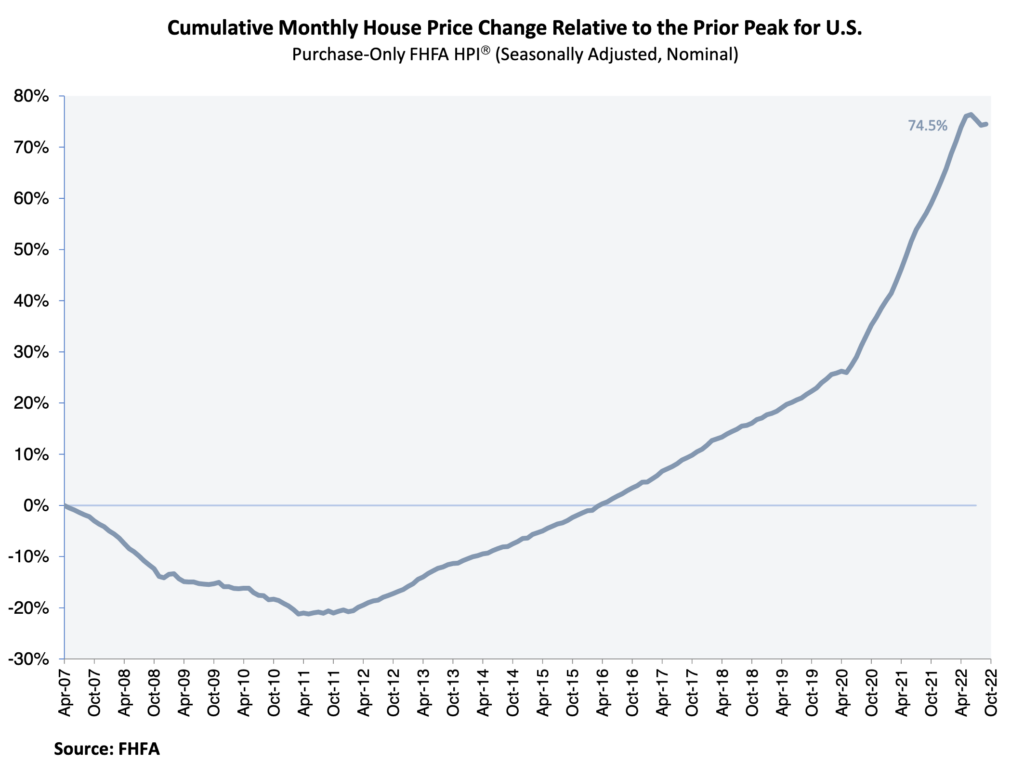 Yes, if you're prepping to buy a home in 2023, expect to be shocked, and not in a good way.
At this point in the cycle, home prices have eclipsed old all-time highs in many parts of the country, if not nearly all places.
And while they're now on a downward trajectory, they remain very high historically. In other words, homes aren't cheap, mortgage rates aside.
Don't be fooled by the "second biggest home price correction in the modern era" that Fortune loves to tell us about.
Without knowing the context, that home prices effectively doubled over the past several years (see graph above from the FHFA), it means very little.
If the price of a TV went from $1,000 to $2,000 last year, then dropped to $1,800 this year, it's not really a massive correction or a crash.
Sure, home prices may have fallen 10-20% from their absolute highs, but you need to know the recent start and end point to make sense of it.
Before the pandemic-fueled crazy seller's market got underway, you could often expect to pay below the Zestimate/Redfin Estimate. Real estate agents even used to hide them!
Then it was all bidding wars and offers of $100,000 or more above asking in hot markets.
Nowadays, there's a good chance bids below asking will again be accepted by more realistic sellers, but be sure to look at where prices were just a couple years ago.
Is it actually a screaming bargain? Or a slight discount off what was once a super inflated price?
Meanwhile, inventory remains tight and if rates come down there will likely be strong home buyer demand, especially for good properties in fashionable areas.
The bad news for renters is home prices are still projected to rise 2.8% on a year-over-year basis from November 2022 to November 2023, per the CoreLogic HPI Forecast.
In short, expect to shell out a lot of dough if you want a home this year, even if paying below asking (or getting a 20% discount vs. 2022 prices).
The combination of a significantly higher mortgage rate and a still-high asking price are enough to keep sticker shock alive and well.
But if you absolutely love the property, it might be a small price to pay to finally put a frustrating home search to rest.
2. Get Pre-Approved for a Home Loan Early On

Speaking of that home still being out of your price range, you may want to get pre-approved with a bank, mortgage broker, or mortgage lender ASAP.
First off, real estate agents won't give you the time of day without one, even though the market has cooled.
And secondly, if you don't know how much house you can afford, you're basically wasting your time by perusing listings and going to open houses.
This is especially true if mortgage rates creep back up as it will further erode your purchasing power. Either way, take the time to know where you stand. Don't be complacent, even if others are.
It's not hard or all that time consuming to get a mortgage pre-approval, and it'll give you more confidence and perhaps make you more serious about finally making the move.
Tip: Look for an online mortgage lender that lets you generate a pre-approval on the fly in minutes (and know you don't have to use them if and when you proceed with a home purchase!).
3. Check Your Credit Scores and Put Away Your Credit Cards
While you're at it, you should check your credit scores (all 3 of them) and determine if anything needs to be addressed. NOW!
As I always say, credit scoring changes can take time, so give yourself plenty of it. Don't wait until the last minute to fix any errors or issues.
And while you're addressing anything that needs more attention, do yourself a favor and put the credit cards in the freezer (or somewhere else out of reach).
Chances are you've racked up the spending during the holidays, so it's time to start paying it off.
Lots of spending, even if you pay it back right away, can ding your scores, even if just momentarily.
It can also increase your DTI ratio and limit your purchasing power if you don't pay it off. Ultimately, bad timing can create big headaches in the mortgage world.
Additionally, pumping the brakes on spending might give you a nice buffer for closing costs, down payment funds, moving costs, and renovation expenses once you do buy.
Speaking of assets, stop messing with them and keep them in one account that can be easily verified once you apply for a home loan.
This means no incoming or outgoing transfers other than direct deposits from your job. A cleaner bank statement will make life easier for everyone, including your underwriter!
4. Quality Housing Inventory Will Be…Limited
It's the same story in 2023 as it was in 2022, 2021, 2020, and heck, even as far back as 2012.
There's really been a lack of inventory since the housing market bottomed because homes were never for sale en masse.
During the prior housing crisis, borrowers got foreclosed on or deployed real estate short sales to move on, and banks made sure all that inventory never flooded the market.
Others rode it out and are now in incredible positions with tons of home equity just ripe for the tapping.
Today, we've got millions of would-be sellers with nowhere to go, thanks to the massive price increases realized over the past few years.
And the lock-in effect of low mortgage rates they don't want to leave behind.
Ultimately, it's hard to move up or downsize, so a lot of folks are staying put. That means less choice for you.
While we will see an uptick in inventory in 2023, the housing supply is still incredibly low historically.
At the end of November, the National Association of Realtors said unsold inventory was at a 3.3-month supply at the current sales pace, identical to October and up from 2.1 months a year ago.
The caveat is new homes might be in greater supply, though they are often in less-central locations where raw land was more readily available to home builders.
With falling mortgage rates and lots of Americans hitting the ripe first-time buyer age of 34, expect competition to intensify as the year goes on, even if not as bad as recent years.
Again, this supports the argument of being prepared early so you're ready to make an offer at a moment's notice!
5. The Home You Buy Might Be a Fixer Upper

You probably don't have the same skill set as Joanna and Chip Gaines, but you might still wind up with a fixer-upper thanks to those massive inventory constraints. And that's totally okay.
What I've learned from buying real estate is that you'll typically never be content with the upgrades previous owners or developers make, even if they were super expensive and high quality. So why pay extra for it?
There's a good chance you'll want to make the home yours, with special touches and changes that distance yourself from the previous owner.
Don't be afraid to go down that road, but also know the difference between superficial blemishes and design challenges, and even worse, major problems.
Especially this year, watch out for money pits that sellers are desperately looking to unload because they missed the top of the market and are now panicking.
Those properties that could never sell may hit the market again, but you might not want that buyer to be you.
With more balance in the housing market, and less pressure to waive contingencies, take the time to get a proper home inspection (or two) and go to the inspection yourself!
6. You'll May Still Need to Fight for It

What's even more annoying is that you may have to fight to get your hands on the few quality properties that are out there, depending on the housing market in question.
I was speaking with my endodontist (yes, endodontist) the other day and he brought up a good point.
Having had purchased a property a year or so ago, he mentioned how today's home buyers are increasingly desperate.
So if and when they do come across something they even remotely like, they're willing to go above and beyond.
And that means even if a cooler housing market, scaring off other would-be buyers in the process.
If the property is popular, there will always be someone willing to outbid you for that home they just must have. This is another reason why the fixer can be a winner, the hidden gem if you will.
That being said, it's okay to pay full ask (or even the fully appraised value), just keep in mind that there are plenty of fish in the sea.
Well, perhaps not plenty right now, but there's always another opportunity around the corner.
Stay poised and don't let your emotions get the best of you. Like anything else, it's okay to walk away. Trust your gut.
7. Absolutely Negotiate with the Home Seller
It seems clear that 2023 will not be a seller's market again, as it has been for the past decade.
This is probably the first full year where we'll see some equilibrium in that respect.
So even in popular markets, you'll be able to negotiate on price, contingencies, repairs, etc.
At the same time, it's still possible you could get into a bidding war. If that happens and you win the thing, be sure to inspect the heck out of the house.
Inspections are key to determining what will need to be addressed once the home changes hands, and what the seller will need to do to compensate you for those issues.
Sure, the seller may say it's being sold as-is, but you can still say what about this, that, and that other thing?
If you don't get a quality inspection (or two), you will have a difficult time asking for credits for closing costs or even a lower purchase price. Take it very seriously, the return on investment can be staggering.
Also know that in many markets nationwide, buyers may have a big upper hand in 2023.
Lots of local real estate markets have cooled significantly, so you might be able to bid below asking AND still get money for repairs.
You should also inquire about seller concessions, and a possible mortgage buydown to snag a lower rate the first 1-2 years on your home loan.
Take a moment to better understand your target market by looking at recently closed listings on websites like Redfin and Zillow. Check what they originally listed for and eventually sold for.
If they're consistently selling below list, you know it's going to be an easy buy. If not, well, get your negotiating hat on.
Some hot 2023 housing markets include Atlanta, Raleigh, Dallas, Charleston, Jacksonville, San Antonio, and Knoxville, per NAR.
In places that were previously hot, like Boise, Las Vegas, and Phoenix, deals should be easy to come by. Just watch out for falling home prices after you buy. The bottom is likely yet to come.
8. Always Do Your Mortgage Homework

While you might have your hands full with an overzealous real estate agent, it's important not to neglect your home loan.
Mortgages are often just mailed in, with little attention given to where they are originated, or what price is paid.
Your real estate agent will have their preferred lender that you "really should consider using because they're the best," but you don't have to use them or even speak to them.
I'll typically say get a quote from them as a courtesy to keep things amicable, and to appease your agent, but also shop around with other banks, credit unions, lenders, and mortgage brokers.
At the same time, think about how you want to structure the mortgage, including down payment, loan type (FHA or conventional), and loan program.
The 30-year fixed isn't always a no-brainer, though you might be able to get a free buydown from the lender (Inflation Buster) or seller that makes it cheap for a couple years.
There are other loan programs that can make sense too, such as the 5/1 ARM, which often get swept under the rug. Be sure to make the choice yourself.
Also keep a very close eye on fees and rate as mortgage lenders are charging lots of discount points these days in an uncertain mortgage rate environment.
9. Expect a Decent Mortgage Rate
If you've done your homework and are in good financial shape, you should be able to get your hands on a pretty good, decent mortgage rate in 2023.
In fact, mortgage interest rates are historically "not bad" at the moment, despite doubling in the past year.
Sure, your rate may start with '5' instead of '3' but that's life. And a 5% 30-year fixed is still a pretty good deal, especially if you get the property for 20% off.
The 2023 mortgage rate forecast looks mostly favorable, so we may see some relief as the months go by, with rates possibly in the high 4% range at some point.
In terms of financing, it's still an OK time to buy a home. But once you factor in the sky-high prices, the argument to rent vs. buy starts to sound intriguing.
Either way, be extra prudent when it comes to selecting a lender to ensure you get the best rate and the lowest fees, even if rates continue to fall.
As noted, there is a lot of divergence in pricing among the lenders still operating, so shop judiciously.
10. The Best Time to Buy Might Be Later in the Year
Before you get too excited watching home prices "plummet" and mortgage rates trickle back down, it might actually be in your favor to slow play this one.
Per Zillow, the best time to buy a home may be in late summer, including the months of August and September.
Basically, you've got the slow, cold months at the start of the year where there isn't much inventory, followed by the strong spring housing market where everyone and their mother all of a sudden wants to buy.
This is typically where asking prices peak during the year and also when mortgage rates are highest.
Then you get a lull and perhaps a dip in home prices during summer, which could be an attractive entry point.
You might even get lucky and snag a big price cut with a lot less competition while other prospective buyers are on vacation.
The icing on the cake is that mortgage rates are expected to fall in the second half of the year, so that could double your prospective victory.
Regardless, get pre-approved NOW and set up your alerts for new listings ASAP and just be ready to pounce whenever. Don't attempt to time the market ever!
11. Are You Actually Sure You Want to Buy a Home?
Lastly, take a moment to ensure you actually want to buy a home as opposed to continuing to rent.
I constantly hear the old "throwing away money on rent" line and it never gets old. Then I proceed to fantasize about renting with not a care in the world.
Are you sure you're throwing away money on rent? Renting can be pretty awesome.
You don't pay property taxes, homeowners insurance, HOA dues, PMI, or mortgage interest. And you can leave whenever you want. That sounds like a sweet deal too.
Oh, and if anything goes wrong, you can just call your landlord or property management company. Easy peasy.
With a home, the problem is yours, and yours alone to deal with. Broken water heater? You're paying thousands out of pocket, not the landlord.
And with home prices so high, be careful not to become house poor in exchange for entering the housing market. Make sure you've got reserves on hand if and when stuff goes wrong.
Watch Out for a Recession in 2023
One extra thing to consider given the ongoing COVID-19 pandemic that reared its head a few years ago and the massive inflation that came with it. There might be a recession in 2023…
At last glance, economists believe there is a 70% chance of a recession in 2023. And this probability has risen consistently since summer.
This may impact your decision to buy a home, with perhaps the biggest issue being possible unemployment.
There have been a lot of layoffs lately, and there are probably a lot more in the pipeline, sadly.
Those at risk of job loss obviously have to be super mindful about a potential home purchase. Make sure you're in a good place to make that big financial step.
During recessions, home prices don't necessarily go up or down, but sales typically drop as owners hunker down. Since they're already hunkered down with their low rates, it could further squeeze supply.
With regard to financing, mortgage rates tend to fall during recessions, which could be a silver lining.
And let's not forget COVID. Even if you remain wary of it, it's still very important to get a good look at a property you're considering buying. The same goes for the home inspection and the home appraisal.
Both should still be taken very seriously, even if more difficult to complete in-person. Ultimately, you should always give a home purchase a ton of thought, so for me not much has changed on this front.
It doesn't necessarily have to be put on hold due to COVID, but it might require more research given the increased uncertainty with the economy, demographic shifts (city vs. suburban living), and so on.
Also, think before you make a complete lifestyle change like moving out of the city and into the country, just because it's on-trend. You might look back in a year or two and say what was I thinking?! Ever seen Funny Farm?
I believe 2023 will usher in some normalcy to the housing market. This means more equilibrium for buyers and sellers. But still a dearth of quality supply.
In other words, it's still going to be tough to buy a home in 2023, though newly-built homes might be somewhat of a deal if home builders continue to offer big concessions.
If you're wondering if 2023 will be a good year to buy a house, that's another question. I expect prices to level off this year and potentially remain flat for a while. The party has certainly come to an end.
Read more: When to look for a house to buy.
About Author