Better Mortgage has launched a new product called "Equity Unlocker" to help Amazon employees purchase homes.
The innovative loan program allows borrowers to pledge vested equity as collateral in lieu of a traditional down payment.
This means home buyers can come to the closing table with a $0 down payment, yet borrow like they put 20% down.
Because many Amazon employees receive a good chunk of their overall compensation in stock, it gives them an opportunity to buy a home without selling shares.
Better Equity Unlocker is now available in the states of Florida, New York, and Washington for current (and former) Amazon employees with vested equity in Amazon.
What Is Equity Unlocker?
Equity Unlocker from Better Mortgage allows Amazon employees to pledge vested company shares toward a down payment on a home.
Instead of having to sell their stock (potentially at an inopportune time), they can pledge shares at a 50% advance rate.
For example, $200,000 in vested Amazon stock would be worth a $100,000 down payment.
And unlike some other products like margin loans, the terms of the loan won't change if the value of the stock does.
The Amazon shares are valued at the time of the home appraisal and the the rate and term of the mortgage can be locked based on that.
This means no surprises if the shares change value in the future, along with the certainty of a 30-year fixed loan.
However, Better will apparently charge a premium for mortgages with employee-pledged stock.
Rates might be anywhere from 0.25% to 2.5% above the Fannie Mae market rate depending on down payment structure.
The tradeoff is the ability to retain Amazon shares that have slumped significantly of late, with hopes they'll rise back to previous heights over time.
How Equity Unlocker Works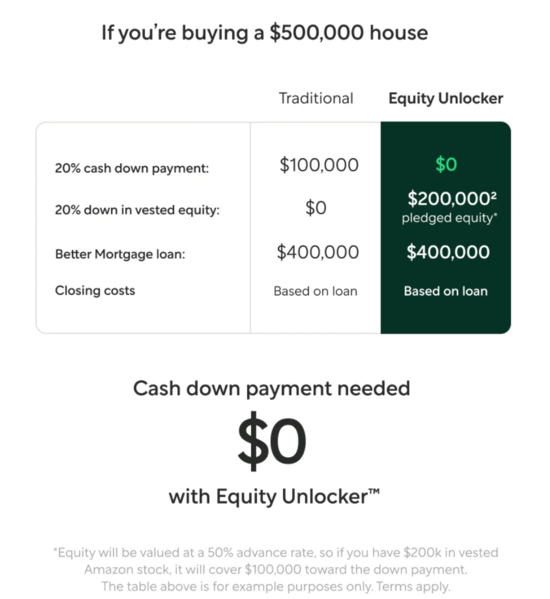 First, Amazon employees (or former ones with shares) will get a pre-approval via the Better Mortgage website.
Then, a mortgage loan consultant will confirm how many Amazon shares the individual has via submitted brokerage statements.
The borrower will then choose how many shares they'd like to pledge toward the down payment on the home purchase.
As noted, the vested shares have a 50% advance rate, so $2 in Amazon stock is worth $1 toward the down payment.
Customers have the ability to offer a hybrid down payment of cash and Amazon shares, and can toggle these inputs to easily determine costs or how much they can afford.
It's possible to put no cash down if desired, but at least a 20% down payment is required (via collateral only if need be).
The loan amount is determined by what is pledged, as seen in the graphic above.
Because the shares are pledged as opposed to sold, it's not considered a taxable event, per Better.
Speaking of, shares can't be sold or repledged unless you either pay off or refinance the securities-based loan.
A traditional mortgage refinance would also likely do the trick, though you'd need a minimum amount of equity in your home to qualify.
Where Is It Available?
While initially available in just three states, it's expected to roll out to many more in the second quarter of 2023.
Those states include Alabama, Alaska, Arizona, Arkansas, Colorado, Connecticut, Georgia, Indiana, Iowa, Kansas, Kentucky, Massachusetts, Minnesota, Nebraska, New Hampshire, New Jersey, New Mexico, North Carolina, Oklahoma, Oregon, Pennsylvania, South Carolina, Virginia, West Virginia, Wisconsin, and Wyoming.
Equity Unlocker can be applied to all property types, including primary residences, vacation homes, and even investment properties.
Borrowers need a minimum FICO score of 680 and loan amounts are limited to $3 million for primary and second homes, and $2 million for an investment property.
Better has been an Amazon Web Services (AWS) customer since the company launched back in 2015.
And their digital loan origination system, coined Tinman, is powered entirely by AWS.
This existing link-up allowed the two companies to explore new ways to expand the relationship.
And knowing that many Amazon employees receive compensation in stock as opposed to cash, it made sense.
Since inception, Better Mortgage has funded more than $100 billion in home loans.
In 2021 alone, the company originated about $47 billion in mortgages, per HMDA data. They are a top-25 mortgage lender nationally.
However, like other mortgage companies they've had to contend with much higher mortgage rates lately.
About Author